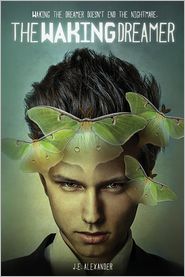 From the moment I read the synopsis of this book, I knew I wanted to read it immediately. I had already assumed I would absolutely love it. Emmett is the main character in this story, and he has reoccurring dreams that will make him a hero, presuming his dreams come true. Just weeks before he turns eighteen, he has made a big decision to find his birth mother, thus starting a road trip. 
Along his journey he learns much about himself, while also putting himself in harms way multiple times. This is when he learns of a world he never knew existed, and would never have if he hadn't left his caregivers.
I really enjoyed Emmett's personality, he is full of references to pop culture movies and is full of witty sarcasm. It's packed full of action, and vividly written scenes that will grab you and pull you in. Its a one of a kind book that cannot be compared to any other book or author, which I found completely refreshing.
This is a very interesting concept for a book that I had such high hopes for, but I am sad to say it didn't blow my mind like I thought it would. There were quite a bit of paragraphs that I skipped because of the vast amount of useless information.
Overall I would rate this book 4/5, and if it weren't for the let down I had after finishing this book, I would have given it the full rating, but I just couldn't get over the fact I was so let down when i had such high hopes through most of the book. 
Kobo
Wal-Mart
Barnes and Noble
Amazon Kindle
Amazon Paperback
Shelfari
GoodReads

I only wear Philosophy products, and Amazing Grace was the first scent that got me hooked on them. You must check them out, they're absolutely amazing!