Help support this blog by Buying it at the following links: 
Kindle
Amazon Paperback
Amazon Audible Audiobook
Barnes and Noble
Nook

Add it: 
Shelfari
GoodReads
What is the book about?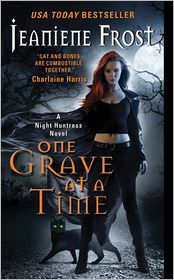 All Cat wants is a little down time after all the fighting and ghouls that keep coming up. Unfortunately a little encounter with Mary Laveau has changed all those plans. Everything is changing around her. Even Don who, lets just say is much different in this book then he was in the previous book (I don't want to spoil too much) The big conflict in One Grave at a Time is Heinrich Kramer who was a witch hunter. He comes back to human form every All Hallows Eve just to torture and humiliate women. Cat and Bones are going to track him down and try to figure out how to kill a ghost. Of course there is going to be someone who is trying to get in-between Cat and her mission...Jason Madigan. Madigan and Uncle Don have some past and it looks like he's coming back to make a big statement and he's using his in's with their government agent to make Cat and Bone's life just a little bit more complicated. 
What did I think of the book? 
Amazing. Jeaniene Frost is always coming up with a new character that you love to hate like Jason Madigan. Most of the time I find myself almost yelling at the books I'm reading by Jeaniene Frost because you find yourself so involved in her writing. I mean Heinrich Kramer made me so upset that I couldn't put the book down until early early in the morning just so I could find out what his outcome is. Jeaniene's books always have me hooked. I am always reading along rooting for Cat and Bones in my mind, "Get him Cat, get him!"
Help support this blog by buying this book at audible.com. Just click on the image below to buy it now! 

Add me on