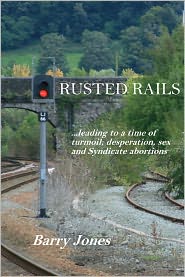 Buy it:
Kindle
Barnes and Noble
Nook
Add it:
Shelfari
GoodReads
This book sets place in the 1920's in Wilder, Tennessee. This was a time of the Industrial Revolution. The town, and the railroad were all being built up during this time period. The author uses real places and real historical facts incorporated in his writing which makes it interesting and enjoyable to read, because you're learning something along with a fictional story line as well. There were quite a bit of non-fiction information that side-tracked me from the plot of the story that I thought would be the main focus of the story.
The fictional part of this story was about the life of Jenny Hughes who is a recent widow, pregnant and, left alone with four children. She seeks out the help of Rose, who is a prostitute, with finding a way to abort the child in her womb. Things go seriously wrong when Jenny goes missing after the procedure, and is last seen with a mysterious reporter. Not only is this case blown out of the water, because of the kidnapping, but also because of the abortion she had when she was last seen.
There is an investigator named Ted who is looking into the whereabouts of where Jenny might have gone, leaving here four children behind. Rumors have it she might have gotten mixed up with the mob, or maybe even something much worse. Ted questions a variety of people with every intention of finding Jenny and brining her home safely.
With the combination of non-fiction and fiction, this story really came to life. It felt so real and interesting and kept me on the edge of my seat trying to figure out what could have possibly happened to Jenny, and why! While reading about the mystery of what happened to Jenny, your learning about the Industrial Revolution, which makes it that much more interesting. I would rate this book a 5/5. Everything about this book was enjoyable, and entertaining which blew me away. I enjoyed it greatly.

Add me on