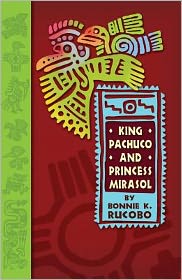 Buy it:
Barnes and Noble
Kindle
Amazon Paperback
Add it:
Shelfari
GoodReads
This book's target audience seems to be young teenagers in middle school or high school. It's fairly short at only 178 pages, so it's a pretty quick read. I would even categorize this story as a fairy tale type novel that is very fast paced.
King Pachuco is the youngest King in history at the age of twelve. Princess Mirasol, who lives with her grandmother and is only eleven years old. The two of them both attend a royal ball, and instantly there is a connection between them. There is an insane twist and they are transported to another planet as two different birds. Now they must figure out how to get themselves home and back into their human forms.
It's a great plot with great excitement. You'll be rooting for the characters to find their way home and live happily ever after like a typical fairy tale. It was extremely creative to have the story be written through the eyes of the two birds as they attempt to resurrect their other lives as humans.
I would rate this book a 5/5 for such amazing creativity and the enormous amount of excitement. It's a perfect book for young adults and even some well read children. I will be recommending this book to many people I know will love it as much as I did.

Add me on