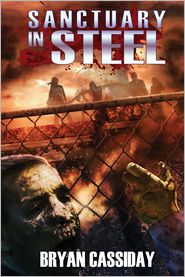 Buy it:
Barnes and Noble
Kindle
Add it:
Shelfari
GoodReads
I would call this a paranormal/science fiction novel that revolves around the war against zombies. This is the third book in the Chad Alverson Zombie Apocalypse series. Now, I haven't read the others, so I can only judge the series off this one book alone, that is until I read the other two before it.
What's a better idea than having the book set at Alcatraz in San Francisco. No one can come in and no one can get out. It was an old military prison, that is isolated on an island out side of the San Francisco city. Once you start this book, you won't want to put it down. Bryan Cassiday really grabs you and holds you into this book all the way to the end.
The main characters were amazingly written. They team up together, a CIA agent, and a reporter, to be complete bad asses. Along the way they pick up stragglers and remain almost like the leaders of the group.
In current times, zombies are all the rage, and I'm sure this book will be loved by many. The writing is fast paced, the dialogue matches the intensity of the situation, and the setting could not be better. Not to mention the characters of the story, which can almost be called heroes. I give this book 5/5.

Add me on