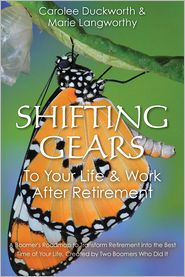 Buy it:
Kindle
Nook
Kobo
Barnes and Noble
Add it:
Shelfari
GoodReads
I believe this book is meant for the generation of the baby boomers. The book is dedicated to them, and it is this generation that is retiring in today's time. This is a very practical book to help those of retirement age, figure out what direction to take when it comes time to retire. There are thousands upon thousands of books out there that aid you into retirement. Most books give you the where, when, and why retire. This book is mainly helpful in getting yourself emotionally ready for retirement.
There is even a Rediscover Your Work, Self Statement for you to fill out in chapter seven which looks like an educational mad lib to getting yourself prepared for retirement.
This book would not be suitable for those who are preparing themselves financially, to retire in the next ten years. If your looking for information on where and how to invest and where to put your money, this is not the book for you.
I found the grammar and spelling errors to be distracting, along with the badly formatted book that broke up the sentences and ruined the flow of the book. I did think it was a great idea for the authors to put space for notes after each chapter, this comes in handy for those who don't have a digital copy, and need to keep notes.

Add me on