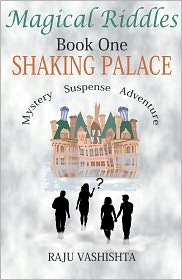 Mystery, Suspense, Adventure

Buy it now at:

Kindle | Nook | Kobo

Add it to your GoodReads and Shelfari


Raju Vashishta has written a fantastic children's novel that held my attention from page one all the way to the end. It's an delightful tale full of mystery and adventure that takes place in the magic land of Magija. Four intelligent and talented students have been chosen to solve the mystery of the Shaking Palace. They must restore the King Blain to his throne by completing a series of treacherous tasks and perplexing riddles.
Raju takes you through a journey that is full of suspense, adventure and action which draws the reader in and keeps them tied in until the very last page. With every chapter you read, you get that much closer to solving the mystery of Shaking Palace. I was on the edge of my seat just waiting for what exciting adventure was going to happen next. This book is full of intrigue and un-expecting events that keep you guessing along with the characters.
This is a perfect book for young readers, especially pre-teens, who have a love for magic, fantasy, and adventure. As an adult, I found this to be an exciting read as well and wouldn't be surprised if other adults felt the same. It would be a great book for a parent and child to read together to have books in common that could be discussed over the dining room table.
There aren't very many pages so it can be an easy weekend read for you and your teenager. With short chapters, it's also great for mandatory reading for school and/or reading to a young child. You could easily start and finish a chapter while reading before bed time.
I found it to be extremely fun to read, because you'll want to solve the riddles as you read along with the characters. I enjoyed this book and highly recommend it to parents, young adults, grade school students, and possibly even some adults. Overall I rate this book a 5/5! What a fun read!

Add me on