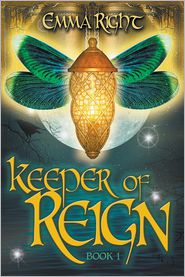 Buy it now:
Kindle | Amazon Paperback | Kobo | Barnes and Noble | Nook

Add it to your GoodReads and Shelfari
I greatly enjoyed reading the prologue, but was disappointed when the backstory was finally introduced, I guess I assumed it would be in the prologue, or after it. Keeper of Reign is an extremely fast paced written book about discovering ones self and extreme adventure.
Friendship is greatly stressed throughout this book as it is the baseline to where strength and courage comes from. Leaning on friends, and holding dear to them is one of the key elements that I saw in this book.
This book is listed as Young Adult but I think it would work for even younger children as well since it has key values and morals that are important for everyone to learn. The dialogue is easy to read, and could be read by a younger crowd.
Jules was my favorite character since he seemed like a humble and strong leader. I really felt for him as he was constantly betrayed by those around him. They take advantage of his trusting and naive side which I found to be an indicator to evaluate the friendships you have. I'm sure we can all relate in some sense. Throughout the book I was constantly waiting for the traitor to be revealed in their small group of friends.
My only complaint about this book is the names that were chosen for the characters. Some were hard to pronounce, so I make up my own name in my head to be able to read it through. It's not really even a complaint as it is something I am pointing out.
I would rate this book a 5/5 for it's appeal to literally anyone. There is definitely something in this book for the whole family with lessons that can be applied to your own personal life. I absolutely loved it, and I cannot wait to start reading it with my family.

Add me on