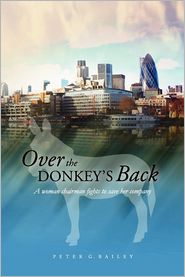 Buy it now at: Amazon | Barnes and Noble |
Add it to your GoodReads and Shelfari Shelves
Peter Bailey writes a novel about Lady Barbara Simmonds-Hunter who lives in complete luxury and lavish lifestyle. This is her comfort zone, and anything outside of that is foreign to her. She's happy and content with her successful husband, her stepson, and the two children of her own. Her work place is a relaxed and calming place, and her manor is what every woman dreams of. What more could she ask for? Everything she owns has been earned with hard work.
Suddenly her life is turned into extreme turmoil. Not only does her stepson want her children dead, a Mr. Mortis Dickey comes back into her life. He left her an awful lot of problems to sort out when he handed over the chairmanship of Fidelity Mutual Assurance Group. Now, he comes back begging to be let in. Mr. Dickey is set on ruining her perfect life, all for revenge. He left her an awful lot of problem comes back begging to be let in.
Difficult times come to Barbara and she handles one by one, with grace but also pain.
By page one your thrown into the midst of the dispute between Barbara and Mortis and even between Mortis and Rachel, Barbara's personal secretary. Each character has such different personalities that they each stand out on their own. I really feel all the emotions Barbara is thrown into. On a different perspective I also felt the anger and distaste that Mortis portrays. Barbara sure has a dramatic life with a luxurious lifestyle to back it up. Things don't seem as bad as they really are when you have money on your side. Or maybe that's the cause of it all in the first place, money, and lots of it.
I definitely think more woman would enjoy this book, compared to men. It goes through so many emotions, only a female would be able to keep up. There's something inside for everyone though, crime, betrayal, lust, drama and just overall pure excitement. I would rate this book a 5/5.

Add me on