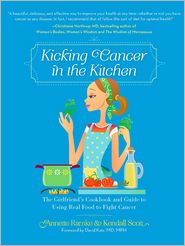 Buy it now at: Kindle | Barnes and Noble
Add it to your GoodReads and Shelfai Shelves
This is a great book for those of you who are diagnosed with cancer, like myself, or for someone you may know who has been diagnosed. This is a book that gives you a healthier lifestyle with your eating habits. There are many great recipe ideas that are not only healthy, but tasty as well. I have tried a few of the recipes, and found them to be easy, delicious, and healthy! I especially loved how they explained why each recipe was important to your health and what nutritional value you are digesting.
Cancer is not an easy path for the person who is diagnosed, or the family members supporting them. This book made me feel like you aren't alone. It is written in such a pleasant way, you almost feel like you're reading a book written by your girlfriend. It was easy to read, and a joy as well. It was great to read about other's experiences with cancer and how it affected them.
Overall I would rate this book a 5/5 and I insist that anyone who knows of someone who is dealing with cancer, to read this book!

Add me on