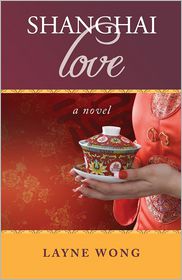 West Meets East in a Mesmerizing Saga Set against the Holocaust
Buy it now at:
Kindle | Barnes and Noble | |
Add it to your GoodReads and Shelfari Shelves
Shanghai Love is a love story that takes place during World War II in China. There is a Jewish doctor refugee, Henri and a Chinese herbalist, Peilin. They come together through a series of tragic events.
The book opens on Peilin preparing for her wedding day in 1937, going through the ancient Chinese rituals that are expected for every bride to perform. She is marrying a man, who is no longer alive on this earth. He has died while fighting in the war. She is marrying him to show her devotion to his family and her keep their love alive.
While Peilin is being wed, Henri's life is changing drastically as Hitler rises higher into power. He is treated the worst during the war since he is Jewish, but he attempts to stay alive as a doctor and help his neighbors and those he can, along the way. He has found himself in love with an Aryan girl, and it isn't until her father learns of who Henri is, that he needs to find a quick escape out of the country. It's amazing how he flee's because of the fear he feels due to her father in comparison to the fear he feels for the war and the Nazi's.
Henri manages to escape to his friend's jazz club where he meets Sophie, but he is betrayed by her when she turns him in to the Nazi's. Somehow he manages again to escape to Shanghai where they do not have a restriction on Jewish immigrants. He meets a man named Ping, who just so happens to be Peilin's brother.
Now that they have met, they can fall in love and live happily ever after. It's your typical love story. The angle on Jewish refugee's escaping to Shanghai is a fairly new angle on World War II. I haven't read many books discussing this topic, and it was refreshing to see a new perspective on an a part of history that has been repetitive in the past. Not many people read about China's involvement in the war, and I really enjoyed learning a little while I read.
There is a great mix of Chines culture, mixed with the historical tragedies of Jewish refugee's and the pain they went through. I give this book a rating 5/5.

Add me on