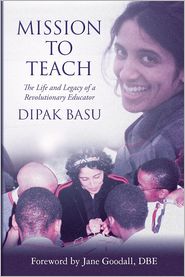 Buy it now at: Amazon Paperback | Kindle | Amazon Hardback | Barnes and Noble |
Add it to your Good Reads, Shelfari,
This book is written by Dipak Basu, the father of Jhumki who loved her and wanted to keep her legacy alive. She was an outstanding teacher and who excelled greatly despite her battle with cancer that took her life at the young age of thirty-one.
Prepare yourself to be inspired by this biography of Jhumki, a teacher who believed you have to get real close to your students as you teach them, by understanding their background and culture. This was her preferred method of getting the interaction she wanted from her students. Jhumki understood that his was what you had to do to be at their level of learning and comprehending.
This book covers the life and work of New York University Professor Jhumki Basu who developed ground-breaking techniques based on her teaching experience in with low income, minority group students. Most teachers would not face this teaching due to the difficulty of getting to understand your students. Let alone doing this while fighting cancer. She's an amazingly strong woman that deserves to have a book telling her story to keep it alive.
Jhumki reached out to all different students including homeless, and disadvantaged because every student mattered to her. She always tried getting on their level to better help them and understand each students learning style.
This is an amazing biography for an amazing person. It's even more heartwarming knowing that this book was written by Jhumki's father, who must have been very proud for all that his daughter achieved in the short time she was here with us. This book is worth 5/5 and nothing less.

Add me on