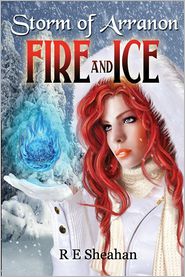 Buy it now at:
Kindle | Nook | Kobo | Barnes and Noble
Add it to your GoodReads and Shelfari:
This is the second book in the series, and this book picked up right where the first one left off. I love this, there's nothing worse than picking up the second book in a series and finding yourself lost in the story. Regardless of when you finished the first book, you should be able to clearly remember the characters and the main plot. Everything else falls into place with small reminders here and there, all throughout the book. Of course it ends, leaving me in anticipation for what could be a third book.
Erynn's life is finally coming together, she's a fighter pilot, she's madly in love with Jaer, and there is peace between the two worlds. She's even more confident in this book then she was in the last, because she has the experience from Storm of Arranon.
Just as she's starting to get comfortable in her easy lifestyle. it all comes to an end. She looses some of her self confidence and self doubt slowly crawls back into her life. Evil will rise, and with a purpose for extreme destruction. This only makes Erynn stronger and more determined to fight, and not hold anything back. Motivation increases when her home is at stake.
Together Jaer and Erynn will show their true colors of bravery, loyalty towards their home planets. The sacrifice they are willing to make for each other and their world is both tragic and astonishing.
This is a great combination of fantasy, adventure, action and even a bit of romance. This book has it all. I would categorize this book under fantasy, or even science fiction but, the adventure and action is still a big part of the whole book, with a subtle undertone of romance. The romance is mainly concentrated between Jaer and Erynn who interact beautifully with one another. I really enjoyed the two of them and how they work together. Even when things get hairy between them and she doubts his love for her. I was rooting for them the whole time.
There is hardly any down time during this book where there isn't any action, adventure or some extreme emotion. I found myself deeply connected to the book, feeling every emotion that the characters were going through. They're extremely well written and I couldn't help but feel the pain and joy they felt too.
Although this story can be read on it's own, I recommend starting with the first book in the series, so you can fully understand the characters and why they are the way they are. It especially helps when they refer back to past times, but the author does a well enough of a job of filling you in on what you may have missed, that you could easily read this as a stand-alone.
I don't think this is the last book in the series, I believe there is more to come and I look forward to reading the next book in the series. Overall I thought this was a great read, worthy of 5/5!

Add me on