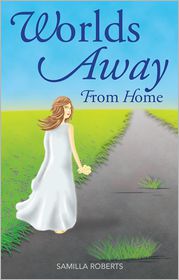 Buy it now at:
Kindle | Amazon | Worlds Away From Home
Add it to your GoodReads and Shelfari
Ashley Parker has started a new school, and it doesn't seem to be going well for her. She heads home and ends up falling asleep in her favorite desk chair. She didn't expect to wake up to such a sight. She wakes up and finds herself in a whole new era with dinosaurs and creatures she's never seen before. Of course, she's an outsider to their world so she is instantly hunted and preyed upon.
Just think of Alice in Wonderland, and how she finds herself in a whole new world, but is not sure how she got there or what her purpose is. She will go along with it anyways and see what the path in front of her will take her.
This is just the beginning of an amazing adventure. Every time Ashley awakens we learn a little bit more about her and exposing her character all throughout the book. Since she's having such amazing times in this other world, when she is present in her current, real life she finds it more interesting than before. This is mainly because she has enough adventure in her life from the chair, that it is completely not needed in her average life.
She bounces back and forth between her worlds, and this almost gave me the impression that she might have lost her mind, or possibly even have magical powers, but I don't believe anything like that was explained as I had imagined. In the other world, she misses her family from her real world, and vice versa.
Unlike Alice in Wonderland which had depth and extreme emotions, this book lacked in that department. I wish there were more hidden meaning behind each character in her other world, that somehow corresponded more to her real life. Since this is targeted towards younger readers, I guess I can't expect too much.
The moral to the story is to not take anything for granted, you never know what tomorrow holds for you. I found this to be a great moral to teach younger children. This was a great book that I look forward to reading to my daughter when she is older. I rate this book 5/5.

Add me on