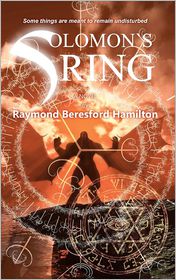 Buy it now at:
Barnes and Noble
Kindle
Amazon
Mr. Brute Therion goes into Secretary Cheney's desk to grab some folders off his desk. He ends up searching Cheney's desk for the key to the family heirloom, a an old mahogany box.

 He unlocks the box to reveal the ancient Hebrew King's ring. Before he knows it, the ring is comfortably sitting on his pinky finger. 



Brute is anxious to find out if if the ancient rituals, he had learned so much about, would turn out to be proven true. He gets out all the supplies he will need for the ritual, the same ones King Solomon probably used. Using a special knife he kills a virgin goat to be used as a sacrifice. 

It all starts to get intense when Brute is approached at his home by a man who sounds and looks as if he is from Egypt and claims to have heard Brute's summoning, and offering to be his humble servant. 

Meanwhile Cheney is having marital problems in his home. Cheney's infidelity's with a man, was revealed on a public news channel, which is how his wife found out, with the rest of the world. Now his wife can't stand to look him in the face and wants him out of her life forever. 

That is until she learns an explosion went off near her home. She rushes home from a one night stand with a stranger, and a

s she enters the home, she finds the body of her husband...dead and mummified. 



This is just one of the weird events that are happening around them. There was also a 7.5 earthquake in Olympia, Washington and a massive tsunami followed declaring a state of an emergency.  In addition o

ne of the police officers who arrive first on scene to the mummified murder instantly comes down with outrageous and unique symptoms that lead to his hospitalization. 



You won't believe the direction this book takes. You'll be putting the pieces together along side FBI Special Agent Robert Cole and CIA Officer Amir Bloomberg to figure out how to free an ancient demon of it's bonds. 

These are just the beginning details of how things start to really change, and not for the better. Is it an apocalypse? You must read this book to see what happens with these characters. It's suspenseful and exciting. So much is going on at once you just want to find out what happens. You'll have to be patient through because each chapter is about a different character so you might not learn about Brute until 3-4 chapters after you first learn about him and the ring. 

I probably wouldn't have picked this book up or even given it a second glance, due to it's cover. I am so glad I got past the cover and opened it to discover the brilliance inside. I give this book 5/5 for such a unique and creative plot. 
Add me on