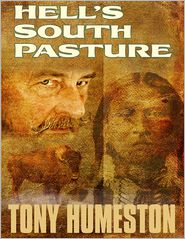 Buy it now at:
Nook
Amazon
Kindle
Tom Talbert, a banker and a former friend to John Flynn, blames John for the death of his son. A form of revenge is presented to Tom and he goes after John's stable by foreclosing it. He gives John six months to come up with the money.
So now John needs some cash and he's decided to illegally hunt the buffalo in the Comanche's territory and sell their hides for a lot of money. In order to catch the buffalo John gathers a large group of men to take with him on his hunting trip. It's going to be a dangerous trip so he even recruits a Comanche guide to help him face the dangers. 
Of course a western wouldn't be a western without a little romance. 
As they are on their travels, they come upon a woman named Marie who is the only survivor out of her party due to a tornado, and is all alone. The only reason she even survived was because she was tied to a tree. Eventually they are attacked, but can you 
guess who it is? The Comanche Indians or... someone else? 
According to the author this book was abased on historical facts, I don't know which parts were factual,  but I would want to find out. Tony does a great job at keeping me on the edge of my seat just waiting to find out what happens to John and how he's going to survive. This would be a great book for anyone interested in westerns or adventure because that's exactly what this was, a western adventure. 
I did enjoy reading this book for the adventure and traditional western theme but I have to admit it's not my first choice of books. I gladly give this book 5/5 for a great book about redemption, survival, and adventure. 
Add me on