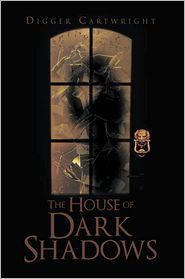 Buy it now at:
The House of Dark Shadows
Kindle
Add it to your Good Reads Shelf
Alex is a twenty-something year old business man who is grieving over the loss of a girl he thought was the love of his life. Shannon left him and he's been haunted with the memories they shared today and he desperately searches for her as he feels she completes his life.
He runs into some friends who convince him to try online dating, and this is where he meets Hope, a twenty-something French photojournalist. Hope opens up to Alex and tells him about how she's a virgin and plans on staying that way until her wedding day. Keep an eye on the things she says, because you'll soon realize she's crazy and everything she says leads up to the discovery of her crazy ways.
Things move really quickly and by the second date, Hope's mother, Charity tries to demand that Alex be tested for HIV by a doctor that she picked out. Immediately following this request she attempts to convince Alex to marry Hope.
At this point in the story, I'm a little confused on the direction this book is supposed to be making. My head is full of questions about Alex, in fact some parts of this book are just too extravagant to be believable.
As you read through the book, you will pick up on clues here and there, so you are constantly trying to plug in each clue in the great mystery of who Alex is. By the middle of the book, you'll be dying to finish the story to learn if Alex listens to his friends and gets out of the crazy relationship with Hope or will he follow through and see where Hope leads him.
I know I found myself yelling at the book for Alex to make the right decisions, but Alex is a curious man and everything he does is unpredictable and surprising.
Of course as a psychological thriller, you are thrown though many different loops that lead you down different paths, but I did not find this particular thriller to be a book I enjoyed. Although I was stuck in the story line and followed it through to the end, I did not understand a lot of Alex's ways, and found the confusion to be distracting. I found there to be an abundance of unanswered questions that will have your mind racing trying to solve everything at once. I will give this book a 3/5.
Add me on