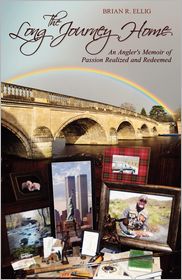 Buy it now at: 
Kindle
Barnes and Noble
Amazon Paperback
An Angler's Memoir of Passion Ralized and Redeemed
Brian Ellig writes a memoir about how the discovery of fly fishing, has taught him to focus in the world and make his life less stressful. He goes into great detail about the sport, so for anyone interested in fly fishing, this would be a great book for you. I'm sure you might even learn a thing or two. 
Mr. Ellig goes through the up's and down's of life but his fly fishing remains a constant. I personally do not fly fish, nor have I ever been, but I can clearly see what an impact it had on Brian Ellig and can respect the meaning behind the sport. 
You probably haven't read anything written like Mr. Ellig's work with his unique writing style that doesn't quit fit into any one category. He writes on and on about his life and it feels as if you are sitting on the other side of a table listening to an old friend recap good times in his life. 
His words paint a perfect image in my head as to what I am reading which is always extremely appreciative while reading a new book. Overall I would give this book a 5/5 for it's amazing writing style and intriguing and capturing words. 
Add me on