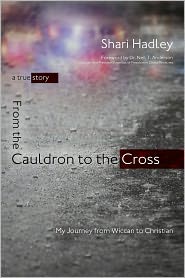 My Journey from Wiccan to Christian
A True Story 
Buy it now at:
Barnes and Noble
Amazon Paperback
Kindle
Add it to your Good Read's Shelf
Shari has been troubled since her youth, causing her to have little faith growing up. She spent her time reading the occult and following Wicca for many years. She never agreed with Christianity for many reasons, one of them being how woman were treated in the bible. It wasn't until she fell in love and starting an amazing family.
According to how Shari sometimes feels, once you've had good in your life, it's only a matter of time until something goes wrong, causing changes in the lives of many. But it's those monumental bad times that lead us to our correct path in life and that's just what happens to Shari. Her husband's death leads her into the arms of the church. 
The more she learned about Christianity and God, the more she learned that what she had believed before, was more and more absurd sounding to her. 
I do not know if this was based off of true events, but none the less you can clearly tell that Shari has opened her heart into this book. I am assuming some of this is factual, especially since the author decided to use her own name as the main character in the book. 
This was definitely one of those books that you start and end in the same day because you just can't put it down. This books has so many ups and downs with it's scary moments to the heartwarming emotional parts, but I enjoyed every emotion that was thrown at me. On a scale of one to five I would give this a 5/5. It's honest, and extremely interesting, I promise you'll be hooked. 
Add me on