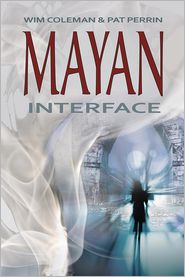 Buy it now at:
Barnes and Noble
Kindle
Amazon Paperback
Add it to your Good Reads Shelf
If I can say anything about Mayan Interface, it would be that it is a very interesting read. I do not know much about Mayan history, except for what rumors have been spread about the December 2012 apocalypse, but I found myself very intrigued, especially about the Uay and the Zaztum. The main character is named Lydia Rosenstrom, an archeologist/shamen who is exploring Mayan ruins and translating Mayan glyphs. I can't tell you much more about the glyphs without giving away too much of the book. 
She travels to Portland, Oregon to visit her niece who works at a museum with an extraordinary exhibit that lets you virtually walk through the Mayan temples and get up close to seeing how the villages may have looked at one time. It sounds like something I would be very interested in visiting. 
When she finds out that her niece died of sheer fright from something she saw in the virtual walk through the ruins, she makes a decision to stay in Portland to try and find what happened to her. It seems the only way she could have died while using the virtual programs is if someone had tampered with the program. 
With this sort of intriguing and unique plot I couldn't help but be so engaged in the book, that I couldn't put it down. While the author goes into detail about what you could see through the virtual reality program, I felt like I too could see what was being described. 
Although this is not they typical book I normally find myself picking up, I did greatly enjoy reading it and highly recommend it to anyone interested in action, history, and thrill. I give this book a 5/5 with no complaints on any aspect of the book. 
Add me on