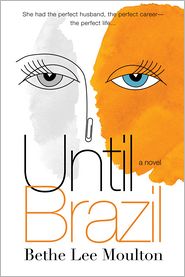 Add it to your Good Reads Shelf
Buy it now at:
Amazon
Barnes and Noble
Nook
A story showing the growth of a woman who was in a high powered, high paying, man oriented, job. She's married to a man who is never happy with anything in their life. He wants her to be successful but he hates her job because of all the traveling. She gave up having children for him, but he complains about that too. He's cold and I found his character to be very annoying in a one of a kind, unique way. 
I immediately felt like this book could use a good editor, it read as if it was a rough first draft. There was an abundance of really slow parts of the book that I found myself skimming through initially, especially through the beginning. It did begin to pick up in the middle of the book when the issues in her life become a bit more apparent. 
I really enjoyed watching Beth Bartlett grow from a tense woman who is disturbingly controlled by her husband, to a strong woman who takes charge of her life. Who knew a small change like a new scarf and skirt, would change everything forever. 
Beth is a great character who I found myself rooting for all through the book for her success and to find her balance between her old life and what she wants in her new life. This is a great book for those of you that enjoy reading about a woman who can overcome and grow through anything that gets in her way. 
I overall give this book 3/5. Although the book was great, I couldn't get over the rough draft feel to the whole novel. 
Add me on