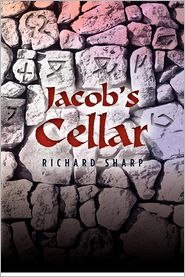 Buy it now at:
Barnes and Noble
This is the second book I have read by Mr. Sharp, so I was excited to start Jacob's Cellar because I enjoyed The Duke Don't Dance so much
This is a book written in a multi-narrative point of view during the Civil War. Each character is an immigrant who is seeking shelter the basement. The leader of the group has been appointed to the blind grandfather who spends his time telling stories of family lore. He spices up many of his stories incorporating the popular stories originally told by Edgar Allan Poe, and Shakespeare. How much he incorporates and what he adds to his own stories, is determined by which family member he is telling the story to. There is a wide variety of ages incorporating three generations of family member which means lots of attention is on grandpa to entertain the with stories told from the American Revolution to the Civil War. 
I wish some of the stories would have been written in a flashback point of view. I believe it would have gripped the reader in a much stronger way, but I am absolutely not disappointed how Mr. Sharp developed this book. I was engrossed with action and drama which goes to prove you don't have to incorporate different settings to keep the reader's attention. This is my only complaint about the book and Richard Sharps writing style. 
Each character comprised in this book all had such strong and different personalities. Everyone had their strong and weak attributes, all bringing different qualities to the table in order to work efficiently as a family. 
My favorite part of Jacob's Cellar was the great amount of different narration. It was so fun and interesting to read about every character and the stories that built up their personalities. You can put a large timeline of stories from multiple generations just by reading of a family who shared everything with one another. 
All in all I would give this book a 5/5. I was able to read it with ease and great interest. 
Add me on