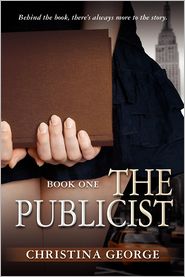 Buy it now at:
The Publicist
Add it to your Good Reads
Katharine Mitchell is a publicist to Haley, a client who relies on Kate for more than just her publicity needs, once she called told the police she only wanted Kate, when threatening to jump off  a roof. 
Kate has had to deal with the arrogant authors who all think they have a great reader that will make it to number one, for far too long. Even though she's fed up with the authors she deals with, she wouldn't change her job for anything, she's the last one who seems to care about how well written a book is. 
Although Kate is over thirty and is not married or seeing anyone, she puts everything into her work. 
There ended up being too much telling and not enough showing.
 I wish they would have explained more of Kate's features and qualities, that Mac finds appealing, because he's awfully captivated by her. Since Kate's personality seems a little boring and dry it seems like we should know more about each of the characters. 
I was a litte thrown off by the different narrative parts throughout the book. I thought it would be consistent with the third person narrator but at some points other characters were being told the from their point a view. 
With Kate's love interest in Mac, I was again thrown off. I think this was only because, I don't see why she is with a man who is already married, it seems like Kate wouldn't be "that type of girl."
Overall I was happy with this chick lit book, with it's drama, romance, and ending cliff hanger. I give this book 4/5 and I am excited to read the second book. 
Add me on