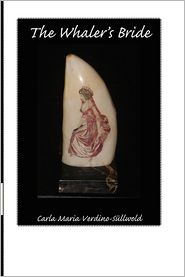 Buy it now at: Barnes and Noble
Amazon
Add it to your Good Reads Shelf
Review:
Mary Lee and Lucas were young lovers who had that, once in a life time, romance. They're love brought them to the alter and they were wed, to live a life of love and happiness which they successfully did for forty years. Until Lars had a fatal heart attack leaving Mary Lee a sad, heartbroken and grieving widow. 
While on their 
honeymoon in Maine at a quaint antique shop, Lucas and Mary Lee purchased a portrait of a woman carved on a whales tooth, otherwise known as a scrimshaw. This gift that they purchased together meant the world to Mary Lee and it meant even more now that her husband is gone. 
Mary Lee is overrun with a curiosity about who it was who carved the intricate portrait on the whales tooth, so she travels back to Maine, back in time to where their love first began. When she arrives at Cape Code, she learns about more pieces of scrimshaw's from a very distinguished family which reveals even more mysteries than she originally set out to find. 
This is a story that touches and breaks your heart all at once. The characters are instantly lovable and you cannot help but love them. Even though it was a bit slow paced, Carla writes a real page turner that cannot be put down. She has an amazing way with words and expressive adjectives that really show off her great writing style that is one of a kind. 
With every word she writes, you can feel the emotions that emanate off of Mary Lee. You can feel the feelings she felt, hear the voices she hears, and feel every sensation described about Mary Lee. I could hear the waves crashing against Cape Cod just as she described it. 
Add me on