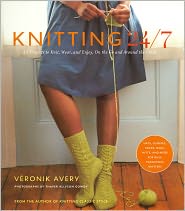 Hats, Scarves, Socks, Bags, Mitts, and More for the Busy Passionate Knitters!



Photographs in the book by Allyson Gowdy 

From the Author of Knitting Classic Style 
Buy it now at: 
Barnes and Noble

Nook
Amazon

Kindle


Book Review:
A perfect book for the On the Go Mom. As a knitter, I know how it feels to want to knit 24/7 but realistically as a mother we know that is literally impossible. There are dishes, and laundry to be done that are keep you from your knitting. What about those moments in between where you could easily be multitasking, like, standing in line at the post office, or commuting on the train to drop your daughter off at dance.
There are great moments to sneak in some knitting and this is a book full of patterns that make great projects for those in-between moments. They have consistent patterns that are easily memorized and can be worked up while keeping your Mommy ears on instead of having your mind buried in a pattern. All these projects can be knitted quick and easy, which makes this a great book for the busy mothering knitter.
I give this book 5/5
Add me on