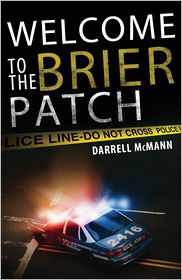 Buy it now at
Amazon Books
Amazon Kindle
Barnes and Noble

Darrell McMann writes about his harrowing tales of being a white police officer in a prominently black neighborhood in Mobile, Alabama. Starting off at the Police Academy Darrell and all the way through to his experience on the streets, he really opens the readers eyes to what it felt like to be him during his encounters. 
Darrell is an honest and responsible officer, who takes his duty to protect and serve very seriously, even in the hardest of times when he was receiving nothing but disrespect. He refers to the neighborhood as a "brier patch" full of thorns that is a dangerous path to go through. 
While reading the details of his life as an officer in a neighborhood filled with violence and crimes, I became attached to the authors story. He never gives up, never loses hope, and certainly doesn't have any jaded thoughts towards any one race. He only wants everyone to be treated equally and fair, without judging a person on appearence alone. 
It doesn't get any more real then Darrell McMann's detailed story of dangerous events in which end in arrests all around the city. While reading this book, I couldn't help but imagine some of his stories to be like an episode of Cops inside my head. I could clearly imagine a man like Darrell patrolling the streets of Mobile, Alabama and how his events made him the cop that he is today. 
This is a great read for anyone who enjoys a behind the scene aspect of a white cop assigned to a southern city, dealing with mainly black criminals. 
I give this book 4/5
Add me on