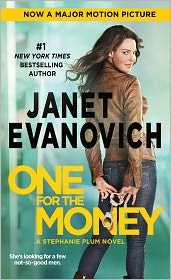 Stephanie Plum Book #1
Buy it Now:
Barnes and Noble
Amazon
Stephanie Plum is having some serious money problems, her car has been repo'd, she sold all her furniture, and if she doesn't come up with some cash soon she's going to have to find a new place to live.
Looking for cash and a job, she goes to her cousin Vinnie who is a bail bondsman. She's hired on default since Vinnie doesn't have a bounty hunter and he's got a big fish that needs caught. Joe Morelli.
Morelli and Plum grew up together in Jersey so she's familiar with his sleazy reputation. Can she catch Morelli to cover her rent? How hard can it possibly be?
This is such an awesome book. I've read it over and over again, along with most of the other books in the Plum series. My copies are all worn, I think I've actually bought this particular book a few times.
Evanovich wrote such a great character with this Jersey girl who has attitude and spunk. It's no wonder these books are so popular, check them out for yourself to see how great.
CHECK OUT THE MOVIE!
They recently made it into a movie, starring Katherine Heigl as Plum and Jason O'Mara as Morelli which I thought was pretty damn good.
Considering I normally don't like books that have been turned into movies, the movies always butcher the story and make it too different than the book, but this one stuck to Evanovich's original, and Katherine Heigl did a pretty great job with her Jersey accent. 
my read shelf: