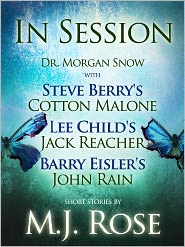 What is the book about? 
Three stories from the files of Dr. Morgan Snow, a sex therapist at the Butterfield Institute, one of New York City's most highly respected sex clinics.
Dr. Snow respectfully meets with Cotton Malone and helps couple who has problems communicating intimately and in return finds herself rewarded in a unique way.
The Butterfield Institute has it's share of celebrity clients of the rich and famous. People like Michael, who is the kind of politician who gets votes because he of his charisma, leads Dr. Snow to meeting with a known hitman.
When Dr. Snow meets Jack Reacher, she is wedged under her own office debris due to an explosion that was probably meant to kill her. While waiting for help Jack tells her a very personal story to help keep her calm.
What did I think of the book?
Dr. Snow is a brilliant and kind hearted sex therapist that goes above and beyond her job description to help her clients, and even those who come to meet her. Exceptionally well written that had me flipping pages for more. I Just wish there was more to read.
I give this book 
HELP SUPPORT
STUFFED SHELVES
AND BUY IT NOW FROM Amazon OR Barnes and Noble FOR ONLY $1.99