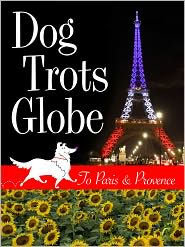 HELP SUPPORT STUFFED SHELVES BY BUYING IT NOW FROM Barnes and Noble OR AMAZON
What is the book about?

A Sheltand Sheepdog named Chula is traveling across the world. Along the way she describes funny incidents and takes breathtaking photos. At the end of the book you will get some great advice on how to travel abroad with your pet. Don't worry, you don't have to be planning a trip to enjoy this book.

What did I think of the book?

If you've ever wondered what your dog is thinking then this is a great book for you. It's funny and witty and gives you a small impression of what Chula might be thinking and experiencing. A cute book with cute pictures that everyone of all ages can enjoy!
I give this book