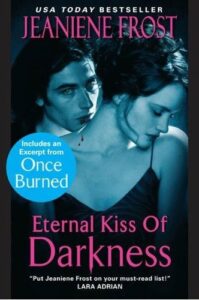 To celebrate the upcoming release of Once Burned, from now though June 25th, Jeaniene Frost has a special ebook edition of 
Eternal Kiss of Darkness
for only 
$1.99
!
Eternal Kiss of Darkness
 won the Romantic Times Reviewers' Choice Award for Best Vampire Romance and it was a New York Times, USA Today, and international bestseller.
You can also get a sneak peak at the end of the book containing the entire first three chapters of Once Burned, available wherever books are sold June 26.
What's the book about??? 
Chicago private investigator Kira Graceling should have just kept on walking. But her sense of duty refused to let her ignore the moans of pain coming from inside a warehouse just before dawn. Suddenly she finds herself in a world she's only imagined in her worst nightmares.
At the center is Mencheres, a breathtaking Master vampire who thought he'd seen it all. Then Kira appears, this fearless, beautiful . . . 
human
 who braved death to rescue him. Though he burns for her, keeping Kira in his world means risking her life. Yet sending her away is unthinkable.
But with danger closing in, Mencheres must choose either the woman he craves, or embracing the darkest magic to defeat an enemy bent on his eternal destruction
Order at:
Amazon, Barnes & Noble, iTunes
Watch the new book trailer for this special edition of Eternal Kiss of Darkness:
Eternal Kiss of Darkness with Once Burned Exclusives!!
Don't forget to preorder your copy of Once Burned so you'll have it as soon as it's released on June 26th! I already have so you better get on it! 
I can hardly wait for the new book! I have read all of Jeaniene Frosts books and I'm addicted! Vlad's story is going to be awesome! 
After a tragic accident scarred her body and destroyed her dreams, Leila never imagined that the worst was still to come: terrifying powers that let her channel electricity and learn a person's darkest secrets through a single touch. Leila is doomed to a life of solitude...until creatures of the night kidnap her, forcing her to reach out with a telepathic distress call to the world's most infamous vampire...
He's the Prince of Night...
Vlad Tepesh inspired the greatest vampire legend of all—but whatever you do, don't call him Dracula. Vlad's ability to control fire makes him one of the most feared vampires in existence, but his enemies have found a new weapon against him—a beautiful mortal with powers to match his own. When Vlad and Leila meet, however, passion ignites between them, threatening to consume them both. It will take everything that they are to stop an enemy intent on bringing them down in flames.
Join me at
GoodReads
to compare and talk about books!